Innosilicon A10 ETHMaster is also known as A10 EthKing with maximum hashrate of 432Mh/s for the power consumption of 620W. There are three versions announced by the company 365 MH / s, 430 MH / s, and 485MH/s.
How to Select Best ASIC miner?
To select a Best ASIC miner you have to look for 3 things as follows:
Hash Rate – The most important factor before choosing any ASIC machine is to select the desired hash rate. More the hash rate less the time it will take to mine the block and collect your block reward.
Efficient –Mining should be efficient enough to provide rewards, if you are not saving electricity costs then you should stop mining. Countries such as China has cheaper electricity available compared to developed countries such as the United States. Hash rate has no meaning without power efficiency so look for a power efficient device.
Price –Your Miner should fit your budget. Remember crypto-markets are very volatile and risks involved with investing in cryptocurrency. Invest as much you can afford.
About Innosilicon
Innosilicon is IC/IP designing company producing innovative and low-cost products with world-class design teams in North America and China. The company focuses on high performance and mixed-signal IP which can be found in tablets, cell phones, HD set-top boxes, TV, Camera, networking devices.
Beside IC and IP Innosilicon is manufacturing customized ASIC boards for mining cryptocurrency and some of the leading miners by Innosilicon are – A9 EquihashMaster, A8+ CryptoMaster, and T2T Turbo Bitcoin Miner.
Official Website – Innosilicon.com
Innosilicon A10 ETHMaster Review (485Mh)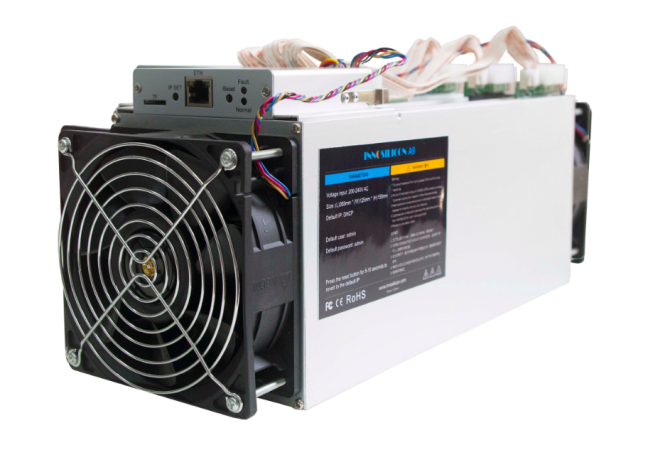 Innosilicon A10 ETHMaster is a flagship ethash algorithm miner by Innosilicon for mining coins such as Ethereum, Ethereum Classic, MusicCoin, and Ubiq. A10 ETHMaster gives you a maximum hash rate of 485Mh for the power consumption of 850W.
Innosilicon is known for its innovative and durable products. Innosilicon is also delivering high hash rate an power efficiency at low-cost. A10 EthMaster is one of the all-in-one ASIC machines by Innosilicon for $5689.
Specifications –
Manufacturer –Innosilicon
Models – 365 MH / s, 430 MH / s, and 485MH/s
Released in –September 2018
Size of Machine –125 x 155 x 360mm
Weight of Machine –5400g
Chip Name – GPU/ASIC
Noise Level – 75db
Power Efficiency – 850W
Number of Fans – 2
Voltage – 12V
Network Connection – Ethernet
Operating Humidity – 5 – 95%
Temperature – 0 – 40 �C
[catlist name=technology]