OmiseGO was created as a financial service on Ethereum Blockchain. There are some best OmiseGo faucets where you can earn some free OMG tokens.
What is OmiseGo?

OmiseGo is an open-source public blockchain which provides payment facilities and decentralized exchange issued on Ethereum Blockchain. The main objective of OmiseGo is to provide financial services for everyone including areas lacking traditional banking infrastructure. OmiseGo is a very successful project which is the first Ethereum project to exceed $1 billion USD in valuation.
OmiseGO's initial offering starting in 2017 by launching an ERC20 token which raised above $25 Million. Advisors of OmiseGO include Vitalik Buterin and Dr. Gavin Woods.
About OmiseGO Blockchain – It is a massively-scalable decentralized exchange, liquidity provider mechanism, clearinghouse messaging network.
Best OmiseGO faucets on the web
EarnFreeCrypto – Currently, this site is rewarding OMG tokens for completing some tasks online such as completing surveys, playing games, referring friends, and watching videos.
Xcolander – Xcolander is one of the biggest vote collectors for launching a cryptocurrency faucet. You can vote for OMG faucet and at the end of the period votes collected will subject to the final review.
id: 395 – Name: It may be profitable to mine Einsteinium coin in 2018 because of the motive of this coin is to fund scientific inventions, technological and innovative philanthropy. As you stated in Question "There is 2.5% reserved block reward for the foundation for Every block mined ". Helping people is the best way to run the organization and most of the investors support such kind of coin. Remember: This is not any financial advice and Investing in cryptocurrencies involve high-risk and volatility. Please consider any expert or financial advisor before taking any action and we are not responsible for any damage.
id: 396 – Name:
Price Update                                                                                                                                                   Currently, Einsteinium is trading at 0.58 USD with the Market Capital of $12,768,667 USD and Circulating Supply of 217,602,373 EMC2 as of 21 September 2018. EMC2 was highest ever traded at $2.30 on Dec 18, 2017.
Rank on CoinMarketCap – 275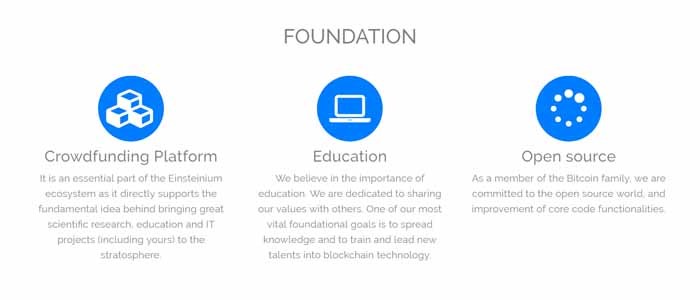 Technical Specifications
Algorithm – Scrypt PoW
Initial Block Value – 1024
Reward Reduction Method – Halving
Block Target Time – 60 Seconds
Difficulty Retargeting – KGW
RPC Port – 41879
Donation – 2%
Faucets – 0.5%
[catlist name=technology]
You are viewing 1 out of 1 answers, click here to view all answers.