Here is How To Unlock the Bootloader on your Android smartphone or OEM Unlock, all you need to do is follow some simple steps and your phone will be free from the locks.
What is Android?
Android is an operating system for mobile devices that runs largely on touchscreen gadgets like smartphones and tablets. It is built on the Linux kernel. It was initially created by Android Inc., which Google later purchased in 2005. At that time, Android has grown to be among the most widely used mobile operating systems, powering millions of devices worldwide.
Android's open-source status, which enables developers to produce and share applications for the platform, is one of its distinguishing characteristics. A large and diversified ecosystem of apps has resulted as a result, encompassing everything from work tools to games and entertainment.
Additionally, Android offers a lot of customization options, enabling users to personalize their devices to suit their interests. This includes the capability to alter the user interface's appearance and feel as well as the installation of third-party apps from places other than the official app store.
Google Assistant, which offers voice-activated assistance for various tasks, and Google Maps, which provides comprehensive maps and directions for traversing the world, are just a couple of the many built-in features and services available on Android.
Overall, Android is a solid and versatile mobile operating system that becomes better and more advanced with each new release. Its acceptance and popularity guarantee that it will continue to be a major participant in the mobile device market for years to come.
Why Unlock Bootloader?
Unlocking Bootloader is simply removing the security lock provided by the manufacturer. Manufacturers secure your device by creating a bootloader lock for their smartphones.
After unlocking the bootloader your phone can enter recovery mode, and without unlocking you can't boot and flash any custom ROM on the device.
The main reason behind this lock is that users can't alter their official stock ROM, and stay to the OS provided officially on the phone.
There are some advantages and disadvantages of unlocking the bootloader on your Android smartphone. So please read the points given below carefully.
Advantages of Unlocking Bootloader
There are some main advantages of unlocking the bootloader on any Android device. There must be anyone reason you are reading this guide.
Root your phone after Unlocking Bootloader.
You can flash Custom ROMs or Recovery on your smartphone.
More options will be available for customizing the phone
Easily Flash various Software/firmware to your device.
Disadvantages of Unlocking Bootloader
The phone's Warranty will be lost but you can get it back by unrooting and by completely restoring the stock ROM.
During flashing, files may Brick your phone.
After unlocking the bootloader of your smartphone you may not receive OTA Updates
You may face errors while using some Google Apps such as the Google Play store or YouTube.
Warning: All the tutorials/ guides shown in this blog are not tested for each and every smartphone. As the process of unlocking the bootloader is almost same for any device.

Infofuge.com is not responsible for loss and damage to your smartphone. Try these methods with your own risk!
How To Unlock Bootloader in Android smartphone?
Follow some straightforward steps and your phone will be free from any restrictions the manufacturer provides. We have provided 2 methods in case one method is not working for your device. In case, the required setting for method 1 is not provided on your phone you can always choose the second method, you won't be stuck anywhere if you are choosing the second one.
Method 1:
This method is straightforward as you won't require a PC/Laptop to perform the steps. All the steps can be performed within the device itself.
First, back up the Android device completely.
Enable the Developer Options on your Android smartphone device.
Go to the phone Settings menu.
Scroll down to the bottom part and tap on About Phone → tap on Build Number 7 times continuously.
Now, Go back to the main Settings menu again and scroll down.
Tap on the Developer options → to enable the "OEM Unlocking" option.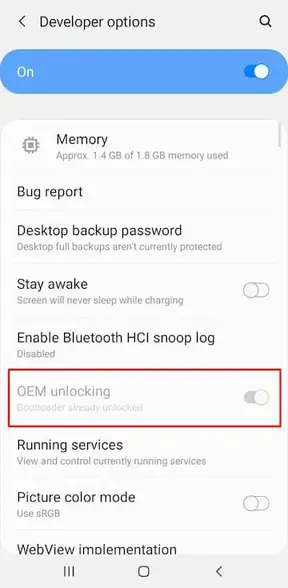 All done. You have successfully unlocked the bootloader on your Android smartphone!
Method 2:
If you cannot see the "OEM Unlock" option on your Android smartphone, you can follow the below steps.
1. First set up ADB and Fastboot Drivers on your PC/Laptop. follow the below steps:
Download ADB and Fastboot Tool
Extract It and Run It
Next, Press Y/Yes to install ADB and Fastboot or N/No to skip
Press Y/Yes to install ADB system-wide or N/No for current users only
Again Press Y/Yes to install Drivers or N/No to skip
Continue Driver installation
// Source: xda-developers.com
2. Connect Your Android smartphone to your PC via the original USB Cable.
3. Open the ADB folder. It will be located in this location C:\adb.
4. Now open CMD by typing "cmd" on Address Bar and Hit Enter, as shown in the screenshot below.

5. Once the Command Window is opened, type the following commands.
fastboot devices
Hit Enter, you will see some random string that means your phone is connected successfully to pc. Next type in
fastboot oem unlock
Hit Enter, This command will unlock your Android smartphone Bootloader. Next type
fastboot reboot
This will reboot your phone.
6. Congratulations! You have successfully Unlocked the Bootloader on the Android smartphone. I hope this guide helps you to unlock the bootloader on your phone, feel free to comment down below if you have any queries regarding this guide.
Now you can install TWRP Recovery on your Android smartphone (TWRP File May Or May Not Be available as per the development). Furthermore, there is so much more to do after unlocking the bootloader such as rooting and installing custom ROMs on the Android smartphone.
In Closing
In conclusion, you may have more flexibility and control over your Android device if you unlock the bootloader. It is crucial to remember that the procedure carries some dangers and that if done incorrectly, it could void the warranty on your device or harm it.
Be sure you have done a sufficient study on the procedure and are aware of the possible repercussions before attempting to unlock your bootloader. Make sure to thoroughly read the instructions and back up any crucial data on your device.
If you choose to unlock your bootloader, make sure to follow all necessary safety precautions and continue with caution. With the right information and planning, you can maximize the capabilities of your device and benefit from all that the Android operating system has to offer.